Closing the awareness and communication gaps for veterans
One in 9 men will be diagnosed with prostate cancer in his lifetime, making prostate cancer the second most common cancer among men in the United States, after skin cancer.1 According to the Veterans Affairs Central Cancer Registry (VACCR), prostate cancer is the most common of all cancer types among veterans, accounting for nearly 30% of all cancer diagnoses.2 Researchers have found several factors that might affect a man's risk of getting prostate cancer including age, race/ethnicity, geography, family history, and gene changes.3 Factors with less clear effect on prostate cancer risk include diet, obesity, smoking, and chemical exposures, as well as other factors.3
For our country's bravest, there is crucial need for improved understanding and open communication about prostate cancer. Below, 2 veterans – Bob and Joseph – talk about how they have taken control by gaining a better understanding of their risk of prostate cancer, being open about their journey through disease treatments and side effects, and facing their battles with their fellow soldiers, which can include their spouse, healthcare team, or fellow veterans.
Understand Your Risk
Understanding one's personal risk of developing prostate cancer is an important first step to being tested for the disease and, if diagnosed, charting a roadmap for treatment. The risk of having prostate cancer rises rapidly after age 50.3 The United States has an aging population, and 60% of the men diagnosed with prostate cancer are 65 years of age or older.1
Bob, a Vietnam War veteran and prostate cancer survivor, says, "It's important for men including veterans to be diligent in making sure we are screened early, evaluated properly, and cared for appropriately."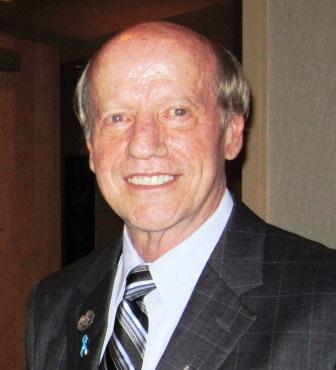 Bob, Us TOO Support Group Leader;
Battalion Surgeon`s Assistant
First Lieutenant Medical Service Corps;
1/502nd Infantry Battalion;
101st Airborne Division Vietnam 1969-1970;
Awarded Combat Medical Badge, Bronze Star, Vietnam Service Medal, Army Commendation Medal, National Defense Service Medal; and prostate cancer survivor
Bob
Vietnam War veteran
and prostate cancer survivor

Joseph, Us TOO San Antonio West Leader;
Chief, Civilian Human Resources, Recruitment and Retention, US Army Medical Command;
Air Force Manpower Agency; and prostate cancer survivor
Joseph
retired Air Force officer
and prostate cancer survivor
Veteran-to-Veteran Support
A sense of camaraderie and the commitment to take care of others is a common attribute among comrades in arms, and it's especially important for veterans battling prostate cancer.
"As veterans, we have a unique history, and sometimes simply receiving medical information doesn't necessarily give us the support we need to heal emotionally – that kind of support comes with sharing your experience with other veterans," says Bob.
While some veterans may be hesitant to seek support at first, many find that the peer-to-peer interaction with other veterans is an important and effective component of their healing process. Once they see that others are having similar side effects and managing them, they feel more comfortable sharing their journeys.
"One of the biggest challenges can be getting a veteran to a support group meeting. But once they're engaged, it's amazing to see them open up to other men about some of the most difficult parts of their journeys," says Joseph, a retired Air Force officer and prostate cancer survivor.
Strength of military spouses
As with all communities impacted by prostate cancer, spouses or partners play a vital role in the prostate cancer journey for military men. Whether it be involvement in conversations with a healthcare team, participation in support groups, or joining in daily activities, embarking on the journey together is crucial – and it begins with recognizing that prostate cancer is not just a man's disease.
"My advice to other veterans is if you have a partner, they become your detailed advocate. In fact, my wife was the one who first asked my doctor about the potential link to any chemical exposure during combat, which led to my diagnosis," recalls Bob.
"Spouses or partners who come along have strong conviction in working through it together. It's not just the man getting cancer; it's a matter of quality of life for all the loved ones," says Joseph.
For veterans, prostate cancer comes with its own set of battles; however, deeper understanding and engagement among all those in the veteran community provide assurance that while they may be the lieutenant of their treatment journey, their platoon is beside them for support.
This article was developed in collaboration with Us TOO. For more information on veteran services and resources, go to Us TOO.